Red Carnations and Bear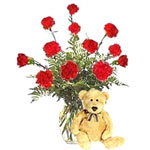 Carnations are sweet, warm and friendly, yet when set in lush greenery and an el.....
USD 103.9
Perfect White Lilies
These gorgeous white lilies are so classically elegant, they're sure to turn any.....
USD 220.9
I Love You
Tell someone, "I love you!" with two of nature's most beautiful blooms – fragran.....
USD 221.9
Delightful Dozen
A rose is a rose is a rose.. times twelve. Twelve sumptuous hand tied roses. Ava.....
USD 103.9